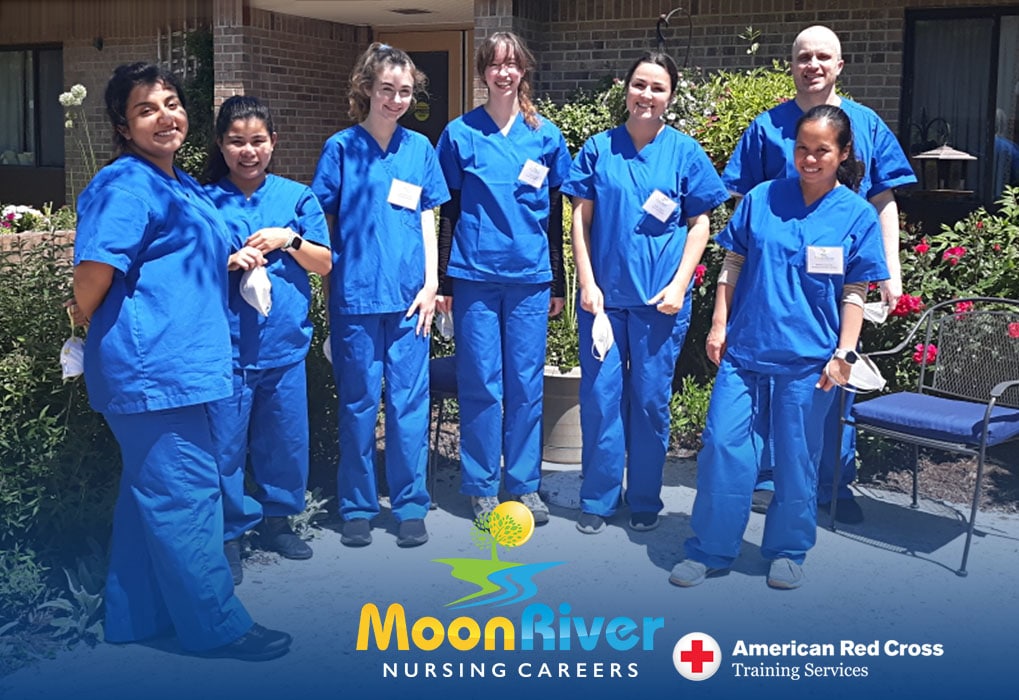 Become a Certified Nursing Assistant and gain valuable experience in Patient Care!
Are you a recent college graduate seeking a gap year opportunity?
In just 5 weeks, you can be ready to pass the state exam to become a Certified Nursing Assistant (CNA).
The first step to becoming a good physician or nurse is knowing and understanding the patient, being compassionate, and having a sincere desire to help others. Hippocrates once said,
"It is more important to know what sort of person has a disease, than to know what sort of disease a person has."
At Moon River Nursing Careers, we understand the importance of training future healthcare providers to provide person-centered care. You will have the opportunity to grow personally and professionally as you prepare to apply to medical school. Skills are practiced in our lab and during the clinical experience you will work one-on-one with patients at a local nursing home. We prepare you for the Board of Nursing state exam to become a CNA. Once certified, you are qualified to work at a hospital, assisted living, nursing home, memory care or home health.
Patient Care Experience
Our Nurse Assistant training provides essential training to work with patients in a clinical setting.  In this process, you'll discover how much your compassion and skills make a difference in the lives of your patients. You will grow personally and professionally as you gain knowledge and develop critical thinking skills. You will learn about monitoring your patients' vital signs and maintaining their hygiene. You will assist with dressing, feeding and learn about safely transferring those with mobility issues.
The Nurse Assistant/Nurse Aide course can be completed in just 5 weeks. It begins with 50 hours of on-line instruction (American Red Cross curriculum). The on-line course includes professionally produced videos that you can view from your home at a time that is convenient for you. The on-line learning is followed by 30 hours of training in the skills lab at Moon River Nursing Careers in Ashburn, VA. The lab sessions can be scheduled mornings or evenings. The Nurse Aide training program also includes 40 hours of clinical training at a local long-term care facility in Leesburg, VA where you will work directly with patients under the supervision of your Clinical Instructor.
Whether your career path is to become a physician or a physician's assistant (PA), experience as a CNA is looked on very favorably by the admissions committees at medical schools. An applicant's experience in patient care is an important part of the interview process. Your work as a CNA will distinguish you from other medical school candidates.
Premeds who excel as students at Moon River Nursing Career also have an opportunity to work as an aide Moon River Senior Care, a licensed home health agency in Ashburn, VA. As a CNA, premedical students can work one-on-one with older adults in the home setting and establish a schedule that is compatible with your other responsibilities. If selected for employment at Moon River Senior Care, you would have the option of participating in the pre-health internship program. This experience will definitely enhance your resume as you gain skills in patient care, problem solving, critical thinking, documentation and crisis intervention.
Older adults over the age of 65 represent one of the fastest growing populations in the United States. There is a critical need for more health care professionals who have skills and experience working with older adults. Regardless of what population you are interested in focusing on in your career, medical schools are seeking well-rounded candidates. By working with older adults in their homes, you are learning about the challenges that patients and their family caregivers face outside clinic walls. This insight is sure to result in becoming a more compassionate doctor or PA who sees each patient as an individual person with an illness and not defining the person by the illness.
Enhance your resume and grow personally and professionally by enrolling in CNA training.
Upcoming classes:
MAY 2 – JUNE 9, 2022 (Accelerated Program)
Online Instruction Part can be taken from home any time that is convenient for you
Skills Lab Sessions Monday, May 23 – Tuesday, May 31, 2022
Clinicals Wednesday, June 1 – Thursday, June 9, 2022
Advance your career in healthcare, and train to be a compassionate healthcare provider who makes a difference in the lives of your patients. Please call/text Betsy at (703) 801-1180 to reserve your seat or to find out more about our Nurse Assistant training programs. Students also can start the enrollment process by filling out the Request An Appointment form on our website. We look forward to meeting you!
Moon River Nursing Careers accepts private pay students and low-income students can apply for federal funding.