CNA and CMA Training programs At Moon River Nursing Careers
Are you a kind, compassionate person who finds joy in helping others?
There are many career paths, but few are as rewarding as working one-on-one with patients. As a Certified Nursing Assistant (CNA), you can work with patients of all ages and positively impact their quality of life. As a Certified Medication Aide, you can provide personal care services AND play an important role in the administration of medication.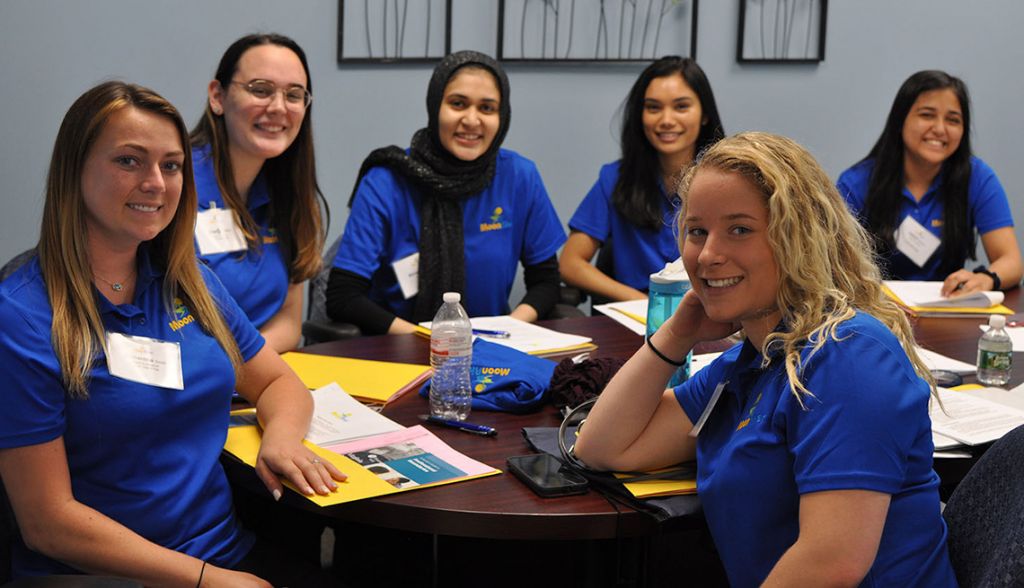 Our Nurse Aide and Medication Aide training programs are located in Ashburn, VA, a convenient location for students who reside in Loudoun or western Fairfax County. Students can enroll in either the Nurse Aide or the Medication Aide course. Upon successful completion of the course, students are prepared to take the Virginia Board of Nursing exam to become a Certified Nursing Assistant or a Certified Medication Aide.
Classes are conveniently schedule at different times so you can choose the session that is best for you.
NURSE AIDE COURSES

We are excited to announce a new partnership with the American Red Cross. Moon River Nursing Careers has been selected by the American Red Cross as a Nurse Aide training site in Northern Virginia. We will be using their excellent curriculum that includes 50 hours of on-line learning.
The skills lab sessions will be scheduled at our school where all training is done in compliance with social distancing. All students wear masks for Skills lab training during the Pandemic. There are weekday, evening and weekend options for scheduling the lab sessions and clinicals.
There is an immediate need for more healthcare providers to work in hospitals, nursing homes, assisted living and in home health. Join one of our May classes and our community's team of healthcare providers. Two classes are offered each month, but seats are limited. Contact us today to reserve your seat! Low-income students or those currently unemployed may qualify for federal funding. Contact Betsy at (703) 955-1811 for more information.
June 23 – July 30, 2020
July 30 – September 17, 2020
August 2 – October 24, 2020
September 22 – November 7, 2020
November 7 – December 29, 2020
MEDICATION AIDE COURSES
REVIEW FOR CNA EXAM
Students can enroll in the written exam review or skills review, or both for a discounted price. We are committed to your success and provide individual attention and practice tests to pass the state exam. Text or call Betsy today at (703) 955-1811 for more information!
Learn test-taking skills and complete practice tests (4 hours)
Review and practice the 22 skills needed to pass the state exam (8 hours)
Next session:
TBD
To learn more about the Nurse Aide or Medication Aide classes, please contact Betsy at Moon River Nursing Careers or email her at betsy@moonrivernursingcareers.com or text or call her at (703) 955-1811.
Moon River Nursing Careers offers INTEREST FREE PAYMENT PLANS! Reserve your seat today!
Adult jobseekers, dislocated workers, and young adults that meet program eligibility criteria may be able to receive funds to go towards the cost of their training through the Workforce Innovation and Opportunity Act (WIOA) with the Virginia Career Works – Northern Region. Under the WIOA principle of streamlining services, Individual Training Accounts (ITAs) are issued to qualified individuals by certified Virginia Career Works –Centers throughout the Northern Virginia area. More information about the WIOA program can be found at: https://vcwnorthern.com/wioa
Moon River Nursing Careers
44927 George Washington Blvd.
Suite 240-245
Ashburn, VA 20147