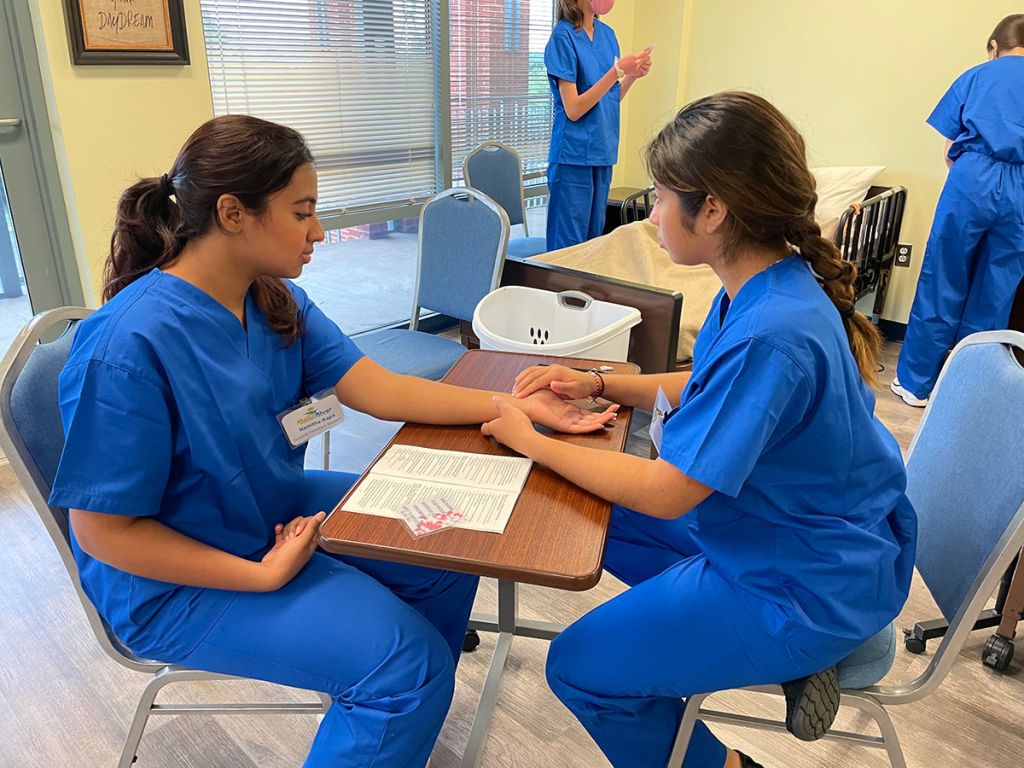 Join the August Nurse Aide / Nurse Assistant Training Class at Moon River Nursing Careers that is offered in partnership with the American Red Cross. This is the required course to take the Board of Nursing Exam to become a CNA (certified nursing assistant). This hybrid course includes online instruction, but there are two weeks that students must be able to come to Moon River Nursing Careers in Ashburn, VA.
The course includes:
• 50 hours of online instruction using the American Red Cross curriculum. This includes professionally produced videos that students can view from their home at a time that is convenient for them.
• 30 hours skills lab training at Moon River Nursing Careers in Ashburn, VA
Skills labs are Monday-Friday 8 a.m. -2:30 p.m.
• 40 hours clinicals at a long-term care facility
Clinicals are held Monday-Friday or Tuesday-Saturday from 6:45 a.m. -3:15 p.m.
Work with an experienced CNA and use the skills you have learned.
If you need help paying for this course, there is federal funding, scholarships and pre-health internships that we can discuss with you. We also offer interest-free payment plans. Share your goals with us, and we will let you know how we can help you achieve them.
Completing the Nurse Aide course is the first step in training to become a CNA or to gain the training needed to work in home health. There are many jobs now available for CNAs and Nurse Aides in home health, hospitals, assisted living facilities, memory care and Hospice. The Nurse Aide training is ideal for those seeking a vocational path in healthcare and for pre-med. and nursing students who want to gain valuable experience in patient care.
If you are a kind, compassionate person who enjoys helping others, becoming a Nurse Aide is a great way to launch your career in healthcare. Visit our website to learn more. Call or text Julie at (703) 801-1180 to schedule an appointment to tour our school and register for the August or September class. Once enrolled, we will send you the link to start the online curriculum prior to attending skills lab.
We look forward to welcoming you to the class!