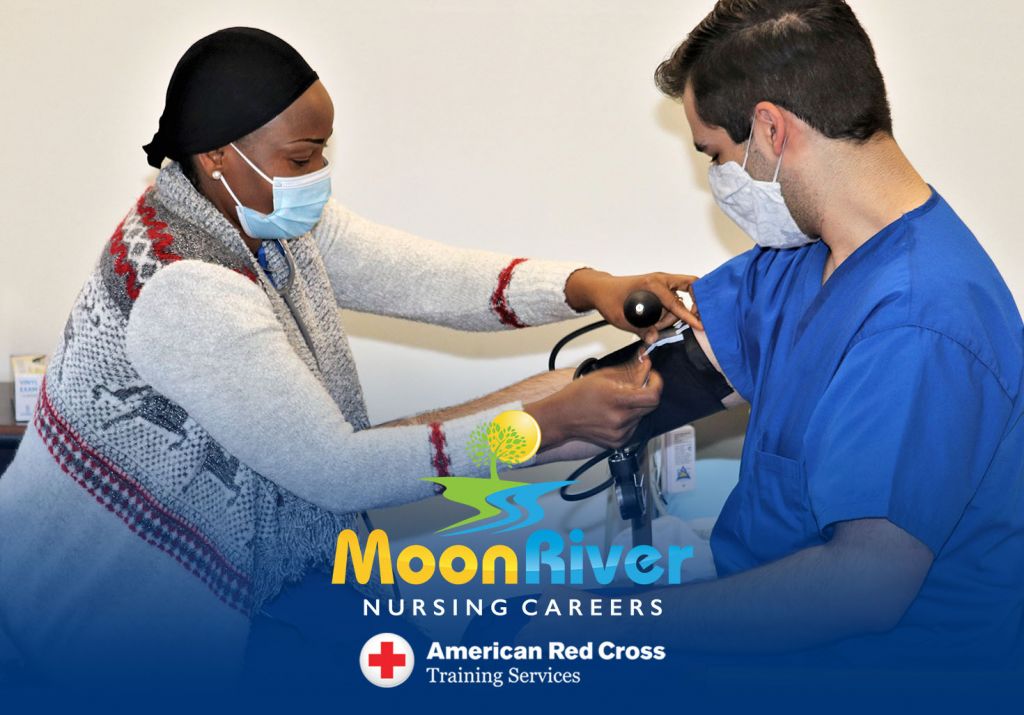 If you want to pursue a career in healthcare, becoming a CNA (certified nursing assistant) is a great place to start! Choosing the right school for your nurse assistant training is very important.  The school you select should have instructors who are committed to your success. The Nurse Assistant training school should provide a dynamic environment where students enjoy learning. The course to train to become a CNA should operate in full compliance with social distancing guidelines and require students to wear masks and gloves during skills lab sessions.
WHY select Moon River Nursing Careers for your Nurse Assistant training?
Moon River Nursing Careers is an accredited school in Ashburn, VA approved by the Virginia Board of Nursing. Our school provides you with online instruction and hands-on training taught by professional instructors who love to share their passion for working in healthcare. The instructors are interested in helping each student reach his/her professional goals.
We use a Blended Learning model to train nursing assistants. This amazing curriculum is offered by Moon River Nursing Careers in partnership with American Red Cross. The 50 hour online Nurse Assistant curriculum uses professionally produced videos to teach students. The movie presentation format allows students to follow a new CNA as she begins working with patients at an assisted living community. Students gain understanding of the tasks the new aide performs and the relationships she develops with her patients. This online training that can be done from your home at a time that is convenient for you. The 70 hours hands-on training in the Moon River Nursing Careers skills lab allows students to practice skills a few days a week as they are learning them.
Moon River Nursing Careers is one of the most popular nurse assistant training schools in Northern Virginia. Whether a student's goal is to become a CNA or to go to nursing school or medical school, the Nurse Assistant training provides valuable training. The classes are small, so students get lots of individual attention. Lab and clinical sessions are offered in four hour time slots and can be scheduled mornings, evenings, or weekends so you can join the class that is most convenient for you. Moon River Nursing Careers is "family friendly" and lab sessions are scheduled at a variety of times to fit into a student's busy life.
If you are ready to advance your career in healthcare, we are excited to meet with you and learn about your careers goals. To join the July and August classes at Moon River Nursing Careers, call/text our Program Director and Lead Instructor, Betsy Palewicz at (703) 955-1811. Come tour our school and and learn why Moon River Nursing Careers offers the best Nurse Assistant training in Northern Virginia.  Students also can start the enrollment process by filling out the "Request An Appointment" form on our website: https://moonrivernursingcareers.com/enroll-now
Our caring, skilled instructors prepare students to take the Board of Nursing exam to become a CNA. We help students with their resumes and in applying for a job that best matches their healthcare interests. In just 5-6 weeks, you can be ready to work as a healthcare professional. There are many job opportunities for graduates of Moon River Nursing Careers that include hospitals, nursing homes, memory care, assisted living, clinic or in home health.
Why choose a career in healthcare?
As a nursing assistant, you can make a difference in the lives of your patients. It can be a rewarding career path with a sense of personal fulfillment. Please call/text Betsy at (703) 955-1811 to reserve your seat or to find out more about our Nurse Assistant training programs. Students also can start the enrollment process by filling out the Request An Appointment form on our website. We look forward to meeting you!
Moon River Nursing Careers accepts private pay students and low-income students can apply for federal funding.